OUTBREAK OF HEMORRHAGIC SEPTICEMIA IN BUFFALOES IN PHEK DISTRICT
More than 100 buffaloes have died. The Department of A. H & Veterinary Services & the Administration are working tirelessly to control the disease spread. Haemorrhagic Septicaemia (HS) is an acute ,fatal, Septicaemic disease of cattle and buffaloes caused by specific serotypes of the bacterium Pasteurella multocida.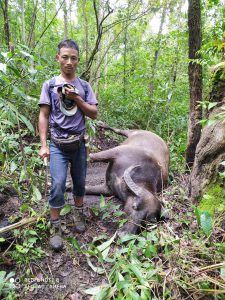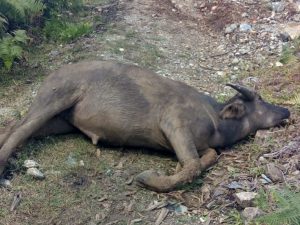 PREVENTION
Segregate the sick animal from healthy ones and avoid contamination of feed, fodder and water
Avoid crowding especially during wet seasons.
Vaccinate all animals which are 6 months and above of age annually before the onset of monsoon in endemic areas.
CLINICAL SIGNS
High fever
Depression
Reluctance to move
Salivation and nasal discharge
Painful, Oedematous swelling of the throat, extending to the brisket.
Congested mucous membranes.
Respiratory distress.